KOLKATA: A steady rise in new
Covid
infections post-Mahalaya on September 17 has caused an immediate demand spurt at city hospitals, most of which have zero vacancy. Anticipating a surge in the run-up to and the immediate aftermath of the Pujas, several of these hospitals have started to gear up to address the crisis on a war-footing.
The number of daily fresh cases in the city this month had gone down to as low as the 300s and 400s on certain days, with most days reporting cases in the 500s. Over the last eight days, however, the number of daily positive cases has remained above 600 in Kolkata.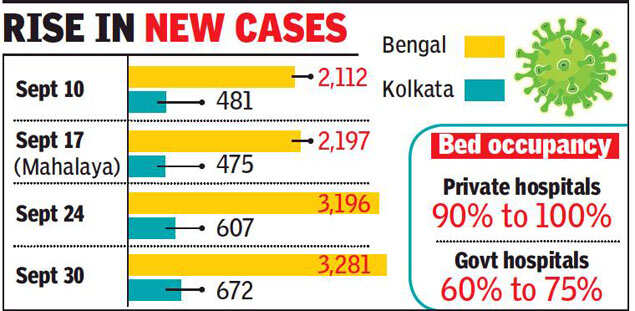 TOI had earlier reported how private hospitals in Kolkata were seeing a slide in the number of Covid patients from the city in the run-up to Mahalaya. That has now changed.
"In the last two weeks, we have seen a rise in the number of patients, and we apprehend the number will shoot up further," said Sudipta Mitra, CEO Peerless Hospital. "We have issued a circular, in which we appealed to all doctors, nurses and healthcare workers not to take any leave during the Pujas and before the situation starts improving," he added.
Pradip Tondon, CEO of Belle Vue Clinic, concurred. "There is a rise in demand for beds again, and we are unable to accommodate new patients, as all our 139 beds are occupied," he said. "We have had several meetings with all our healthcare workers, and they have assured that none would take leave during the festival. We are also working on other measures."
In addition to patients from Kolkata, city hospitals are also seeing a steady inflow of patients from the neighbouring districts: North 24 Parganas, Howrah, South 4 Pargangas and Hooghly.
"We had seen a plateau in August. But, from the second week of September, there has been a rise in cases and in hospital bed occupancy. The situation could go from bad to worse again after Durga Puja," feared Basab Bijay Sarkar, internal medicine specialist, Fortis Hospital. Debasish Dhar, group vice president, ILS Hospitals, said: "There is a slight rise in dem-and for beds, particularly that of critical-care beds."
Some hospitals, such as Ruby, AMRI Dhakuria, Belle Vue Clinic and Apollo had vacant beds — numbering between five and 25 — at the beginning of September; now, these hospitals, too, have no vacant beds.
"We apprehend pressure from mainly critical patients, who would require ICU care," said R Venkatesh, regional director east, Narayana Health. "We are prepared for this. We are also preparing to increase our testing capacity and decrease the turnaround time."
AMRI Hospitals has urged critical care doctors and specialists — from cardiology, pulmonary, neurology, nephrology and internal medicine — to remain available during the festive season in addition to other healthcare workers. The hospital will also consider augmenting its Covid beds, depending on how the situation evolves after Puja.
Overall bed occupancy in government-run Covid facilities had gone down to as low as 32% during end-August. This has now gone up, with the figure now approaching 36% overall. In Kolkata, however, bed occupancy has shot up to as high as 60% to 75%. This had ranged between 40% and 68% at the start of September.
"Currently, the occupancy at Medical College Hospital and MR Bangur Hospitals, the two biggest Covid facilities, is above 70%. Rounds of discussions are being held in order to stay prepared for a second surge," said a senior health department doctor.
— to timesofindia.indiatimes.com